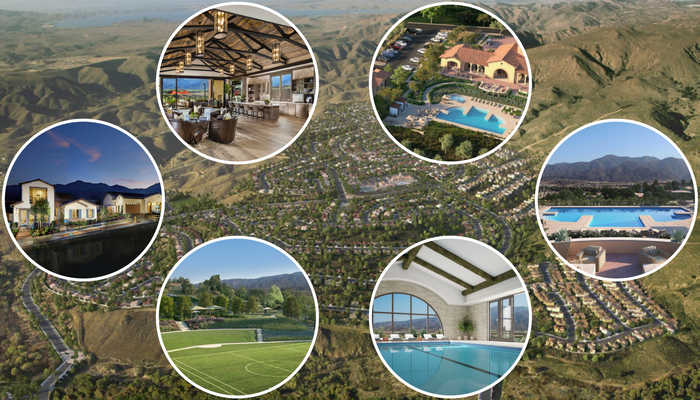 We are very happy to announce that the Terramor community HOA has awarded GSI with another new contract. Terramor is a new gated community and a gorgeous development of upscale homes in Temescal Valley.
When complete, it will include six neighborhoods and a total of 1,443 homes. Four of the neighborhoods are designed for adults 55 and older. The other two neighborhoods are for all ages.
"Distinctive new home collections will offer a host of choices along the terraced hills of Terramor. Architectural themes will echo the spirit of European villages, graced by stone and brick, arched doorways or wrought-iron railings. Some rustic, some refined, each collection will reveal a deep reverence for authenticity and timelessness." – Terramor Website
Terramor offers outstanding amenities. It will feature two clubhouses, The Terrace Club and The Veranda.
The Terrace Club is exclusively for those who are 55 and older. It offers a wellness studio and gym, an outdoor cooking area, multipurpose rooms, crafts room, and of course a beautiful resort-style pool and hot tub.
The Veranda, is already complete, and it is available for residents of all ages. It has another great looking pool, plus a toddler pool. It also provides private event space and restrooms.
The natural surroundings also make this an outstanding location. Residents will have access to miles of trails and parks and be surrounded by 540 acres of preserved open spaces.
Some of the advantages we bring to Terramor are:
A bespoke security solution – A custom designed security plan that is designed to meet the specific needs of the Terramor community.
Client Services Manager – This is a dedicated position to oversee quality control and ensure each client's expectations are exceeded.
GSI Alert – Ability to mobilize hundreds of guards to cover client affected areas for a prolonged period in case of an emergency.
Dedicated Rovers – Only 2-3 Rovers are assigned to each client's site, so clients get an officer to fill-in who is familiar to them and has been trained on site specifics.
Custom Training – Client specific on-going web based training that's fully accredited.
Follow Through – every commitment to the customer is in writing with a fixed timetable for that event so promises don't get diluted and forgotten.
Improved Responsiveness – We invest more into managerial support, so that issues are addressed and resolved quickly.
Higher Guard Retention – We hire carefully and invest into our officers to ensure they feel like a valued member of our team which lowers turnover.
Daily Inspections – We drop in on guards daily to ensure they look their best and are meeting all job requirements.
Real Time Reporting – Incident reports are sent out in real time and activity reports are emailed daily.
We are happy to partner with First Service Residential on this. We are also thankful to be chosen by the HOA board at Terramor. As always, our goal will be to exceed exceptions.
http://guardsystemsinc.com/wp-content/uploads/2018/06/header.png
400
700
GSI
/wp-content/uploads/2016/08/Guard-SystemsLogo.png
GSI
2018-06-26 17:05:19
2018-06-26 17:19:31
GSI's New Partnership At Terramor