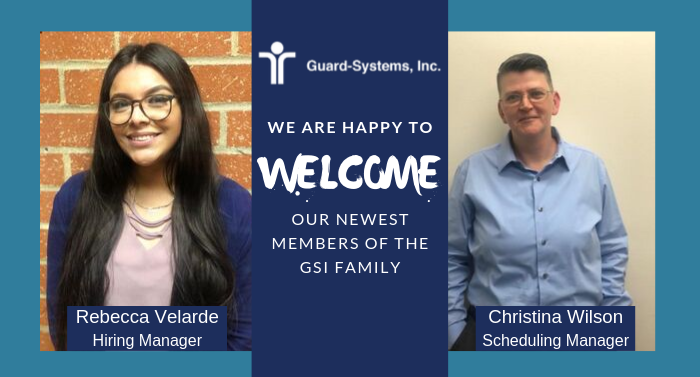 Excellence! It is what we strive to deliver to our clients each and every day. To exceed the expectations of our clients they need excellent managerial support and outstanding officers. That's why we are very happy to announce that GSI recently added two key staff members to the GSI family. Rebecca Velarde who is now filling the position of a Hiring Manager and Christina Wilson who has just been added as a Scheduling Manager.
Meet Rebecca Velarde
Rebecca worked her way through college in an admin role at GSI's parent company. After obtaining her degree in Business Administration with an emphasis on Human Resources, she transferred to GSI.
"GSI is very employee-oriented. I'm the hiring manager so I'm constantly exposed to candidates. It's great to work for a company that recognizes potential and helps people to grow within the company." – Rebecca Velarde
Meet Christina Wilson
Christina Wilson comes to us with ten years of security experience. Christina's focus, dedication and work ethic can be seen in her track record. Christina worked her way up the ranks at several security companies. She has worked in almost every security position imaginable and understands the industry well. Prior to joining the GSI family, Christina worked as an Operations Manager with Allied Universal.
"GSI is all about quality and not quantity, and that's another thing that really drew me. At my old company, they were just about gobbling up the competition, and they didn't care what kind of product they were putting out, and that's completely opposite of what GSI does." – Christina Wilson
The future is bright!
Both Christina and Rebecca will play a vital role in selecting and placing our officers. We realize that each officer has their own skillset, we have some people who are more geared for customer service and some are more geared to establishing a security presence as a standard security officer. Fitting the right people to the right positions is key.
Christina and Rebecca will also be helping us roll out our new Certified Portfolio Officer program. This program will replace our Rover program. These officers are carefully selected, receive higher pay and our corporate benefits package. They also enjoy greater work flexibility. Everyone is excited about the benefits this will bring to our clients and employees.
"The way they have it set up here with the tiers as far as each guard only being assigned to so many properties, and they are literally the best of the best, I mean, these guys are great! I'm 100% vested in this program. It's amazing. And again, they treat their people really well. I thoroughly enjoy it. I've only been here for a little while and I just love it." – Christina Wilson
We are very excited to have both Christina and Rebecca with us. They have already proven themselves as valuable members of our team and we are confident they will continue to be.
We always consider our clients in every decision we make. That includes the hiring of Christina and Rebecca. We feel it is important for our clients to know we are always looking out for their best interest. Instead of streamlining operations, we are committed to strengthening and enhancing key support positions, so our clients continually get the superior service they deserve.
http://guardsystemsinc.com/wp-content/uploads/2019/09/Family-Grows.png
377
700
GSI
/wp-content/uploads/2016/08/Guard-SystemsLogo.png
GSI
2019-09-24 14:58:06
2019-09-24 16:20:51
GSI Welcomes Rebecca Velarde and Christina Wilson to the Family!