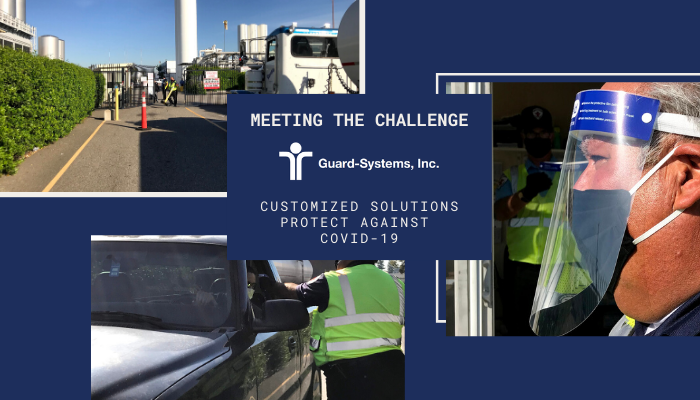 Guard-Systems, Inc., has created a reputation of offering security services that are customized to each and every client. The need for security services may be greater than ever with the COVID-19 pandemic, and GSI has demonstrated another example of how important it is to be able to offer customizable services to clients.
Food processing plants and the risk of COVID-19 outbreaks has been a top story lately, and GSI was pleased to be a part of the means of addressing the situation at a large, multi-acre cheese processing plant in Monrovia, owned by Cacique, Inc. This client wanted to protect their facility, employees, and others from the COVID-19 virus. GSI worked closely with the client to develop a customized security plan that would address their specific needs.
This was a new aspect of customization of security services, so it required extra attention and research to develop the procedures.
Step 1 – Analyzing the research guidelines and best practices for dealing with COVID-19.
Step 2 – Meeting with the client in order to do a comprehensive assessment of needs and requirements.
Step 3 – Controlling the traffic flow in and out of the building and premises. This involved creating a single point of entry for all traffic coming into the facility.
Step 4 – Creating a plan that was based on various contingencies and creating backup plans that were based on worst-case scenarios.
Step 5 – Training security officers and guards specifically for this situation and spreading awareness about the virus throughout the employees and the plant.
There were numerous methods used by GSI to help prevent the transmission of the virus to the employees and the production facility. GSI ensured that all officers and guards had the proper Personal Protective Equipment, including face shields, masks, and gloves. Security officers were trained in the proper methods of screening people entering the facility and ensuring that no one with symptoms was allowed access.
In addition to asking questions of each person, temperature checks were used at the gate entrance to the facility. A Dynarex infrared thermometer allowed security officers to check people for fevers, without physical contact.
GSI and the client have relied on the best practices from the Centers for Disease Control. The CDC recommends a combination of three methods to reduce the risk of contracting COVID-19. First, it's important to reduce the risk of transmission of the virus among the employees by encouraging sick employees to stay home, identifying how employees might be exposed to the virus at work, and educating employees on how they can reduce the spread of the virus.
The second practice is to maintain healthy business operations by offering flexible sick leave for employees, developing a plan of action if a number of employees become ill, and even having a workplace coordinator to deal specifically with COVID-19 impacts.
Third, employers should maintain a healthy environment. This includes supporting good hygiene for employees by having hand sanitizer and tissues readily available, practicing regular cleaning and disinfection, and doing enhanced cleaning if the virus is suspected or confirmed.
COVID-19 and its effect on food processing plants is a perfect example of why customization is so important with security services, and this is a great example of how GSI provides those customized services, tailored to each client.
It also demonstrates the aspects of GSI that set the company apart from other security companies. GSI maintains a strong focus on providing excellent training for its security officers and guards, which results in long-term retention of these employees. Service matters, and GSI makes sure that the proper support is in place to quickly solve any issues that may arise. Security plans should always reflect the goals of the client, and integrating COVID-19 plans into security plans demonstrates the importance of this.
GSI received so much helpful cooperation with this and would like to thank everyone involved. That includes the plant employees, vendors, drivers, and anyone else that contributed to the success of this security plan.
http://guardsystemsinc.com/wp-content/uploads/2020/05/Meeting-COVID19-Challenge.png
400
700
GSI
/wp-content/uploads/2016/08/Guard-SystemsLogo.png
GSI
2022-01-25 13:20:11
2022-01-25 13:16:40
Customized Security Services in the Time of COVID-19