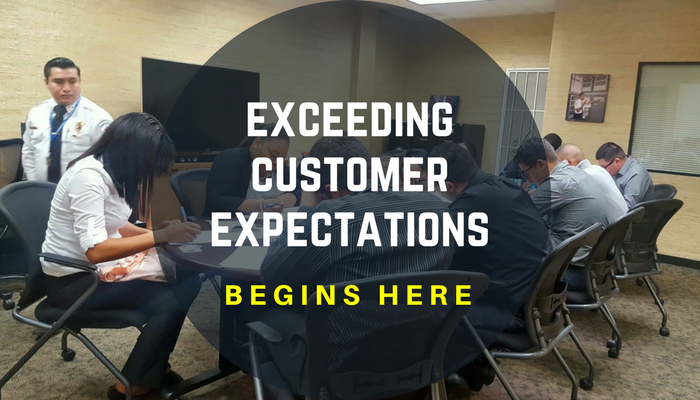 At GSI our goal is to exceed expectations. There's a lot of work that goes into doing that, and it starts with hiring the right people.
This is especially important for property managers to understand because when anyone enters an access controlled building or community, the security officer / concierge is usually the first person they see and interact with. This in essence makes the security officer the face of that building's or community's brand.
When it comes to security & concierge services, we want to be sure that applicants are properly screened and matched to positions that they will excel in.
" In my role, I hone in on our applicant's skill-set and experience to determine how best to utilize their finest qualities. This part of the process, to me, is the most crucial…it is during this very small window that we gauge our candidate's potential for growth, development and eventual success." – Edgardo L. Gallardo, Corporate Hiring Manager, GSI
The Hiring Process
Our hiring process begins with group conferences that help applicants understand our commitment to our clients along with the expectations and advantages of working for Guard-Systems Inc.
Applicants are then guided through the application process where we explain our screening process and how all background investigations are conducted.
These investigations include but are not limited to:
1st Tier Local, State and Federal Criminal Background Checks
Credit and Identity Check
Driving Record Background Check
Preliminary Drug Test
Pre-employment Questionnaire that we closely examine includes inquiries into: employee background, employment history, integrity, personal reliability, and work ethic.
2nd Tier Local, State and Federal Criminal Background Checks – by our Human Resources Division
Skills Testing (Observational, Written, Verbal, Computer)
Work and Personal References
Final Drug Test
Finding The Right Fit
Applicants are scheduled for a series of interviews only after these checks are successfully completed. In order to identify the best possible fit for every prospective candidate, each is scheduled to meet with our Operations Manager, Regional Manager, Client Services Manger and Scheduler.
" Identifying our applicants' goals and aspirations relative to their respective skills and talents, allows us to disseminate not only how they will benefit from our organization, but how our organization will benefit from them…to me that ultimately leads to the satisfaction of my customers." – Eric S. Macias, Client Services Manager, GSI
Appreciation Is Important
At GSI we strongly believe that when people know that they are important and appreciated they will perform better. We have a culture that shows appreciation for our team and looks to instill a sense of pride and accomplishment in the work that is being performed for our clients.
" Our Hiring Process is amongst one of the more rigorous in the industry. Our philosophy is, and always has been that we seek to hire those who understand the benefit of working for an organization that never treats them as a number…but a valued member of our team." – Gustina Woods, Executive Human Resources Assistant, GSI
Proper Training
Unfortunately, we don't live in a perfect world and issues will arise, even with the best people and the most proactive approach to management. Most people understand this. However, it's how those issues are handled and the way people are treated that makes all the difference. Therefore training is essential.
Property managers who wish to exceed tenant expectations should ensure that all staff and outside contractors are trained to deal with customer concerns properly.
This is important because Studies show that bad experiences are more likely to stay in a person's mind than good ones, and consumer research indicates that people are more likely to share bad experiences with others.
At GSI, we consult with management teams to customize a training curriculum, geared specifically to meet this need. These are accredited training courses that cover various roles and duties of professional security personnel. Trainings feature scenario-based interactions and videos that are in accordance with the officer's day-to-day responsibilities.
Exceeding Expectations Is Not Easy
This may sound like a lot of effort, and it is. However, the work that is invested into the front-end results in less frustration later. For us it has resulted in happier clients, happier tenants, less employee turnover and substantial growth.
As a property manager, it can result in happier tenants that are more understanding when issues arise. Vacancies will be filled faster and tenants will stay longer. Plus there will be less fires to put out, and who wouldn't love that.
http://guardsystemsinc.com/wp-content/uploads/2017/05/customer-expectations.png
400
700
GSI
/wp-content/uploads/2016/08/Guard-SystemsLogo.png
GSI
2017-05-02 12:42:17
2017-05-02 12:59:38
How to Exceed Customer Expectations