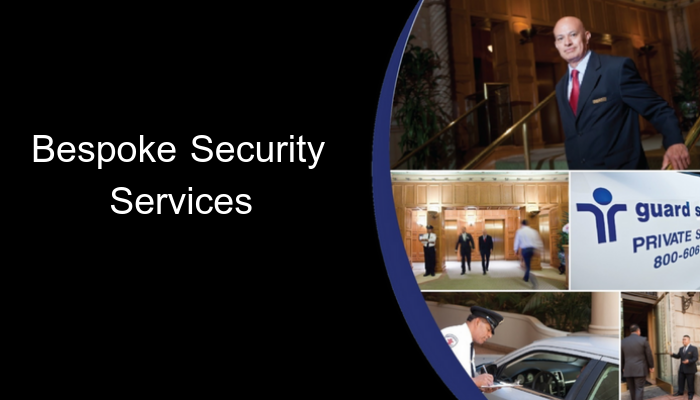 Which would you prefer? To own a suit that came off the rack or to own one that was custom made to fit you perfectly? Of course, a custom-tailored suit is always preferable.
The same should apply when it comes to the services we receive. Instead of settling for generic services that are a general fit, wouldn't it be better if we received services that are a custom fit to our specific needs?
There are usually two reasons why we don't.
We don't think we can get it.
We believe it will be too expensive.
These two limiting beliefs often cause us to settle for mediocre services that meet our general needs, but that can cause irritation and frustration because they don't fully satisfy us.
For example, in the security industry, property managers may have very specific needs when it comes to the look and level of service they would like to have as a part of their security program. However, the security companies that they talk with present only a few prepackaged programs.
These programs may offer a few varieties of uniforms or concierge-style services, but fail to meet the individual needs of the building and its management team. That's because the general approach with corporate America is to look at the overall market and then develop packages based on the market's overall needs rather than the specific needs of each individual client. This approach severely limits options for building managers and owners.
A Perfect Fit For Building Managers & Owners
Property Managers can get bespoke security solutions that are custom-tailored to their specific needs. At GSI we have resisted the behemoth organizational structure that inflates admin costs and limits client options.
Instead, we have sought to remain flexible and agile. As a financially solid, owner- operated, private security firm, we have an unparalleled ability to adapt to the specific needs of each client. Our approach is to listen to our clients' RFP requests and respond in writing without overlooking even the smallest details.
It is important that we put every detail in writing so that promises do not fall through the cracks later. This type of attention to detail and concern for our clients allows us to consistently exceed client expectations.
Bespoke Services Does Not Equal High Prices
Usually, when a person wants something that is custom, they are going to pay higher rates for it. That does not have to be the case when it comes to security.
Large security firms are always looking for the most cost-efficient way to scale operations which is why they are limited when it comes to customization. Prepackaged solutions help them to reduce costs. One of the reasons that savings do not make its way to their customers is because they also have huge admin costs.
In addition to stockholders, they have to pay large salaries and huge bonuses to a variety of presidents, VPs and an extraordinarily large administrative staff. All this money has to come from somewhere, so they are forced to limit client options and services in an effort to improve efficiencies.
Our approach is different. While remaining very strong financially, we have chosen to invest in improved services for our clients.
We provide a client services manager who is responsible for making sure our clients' expectations are exceeded.
We drop in on guards daily to ensure they look their best and are meeting all job requirements.
Only 2-3 rovers are assigned to each client's site, so clients get an officer who is familiar to them and has been trained on site specifics.
We provide ongoing client-specific, web-based training that's fully accredited.
We maintain the flexibility to put a bespoke security program in place that meets the specific needs of each client.
While the costs of providing bespoke security services are higher, our lower administrative costs allow us to deliver a security program that meets our clients' individual needs at a competitive rate. It's a win-win for everyone involved.
Our clients get exactly what they want without paying more for it. We maintain a very high client retention rate and our portfolio continues to grow rapidly. Growth helps with our recruiting efforts because career minded guards have opportunities to advance, and we are able to retain quality officers.
Our goal with every client is to exceed expectations. That's why we choose to provide service that is a custom fit to the needs of each client rather than generic services that result in mediocre services.
http://guardsystemsinc.com/wp-content/uploads/2019/01/bespoke.png
400
700
GSI
/wp-content/uploads/2016/08/Guard-SystemsLogo.png
GSI
2019-01-08 22:08:10
2019-01-09 07:01:53
Bespoke Security Solutions That Exceed Expectations