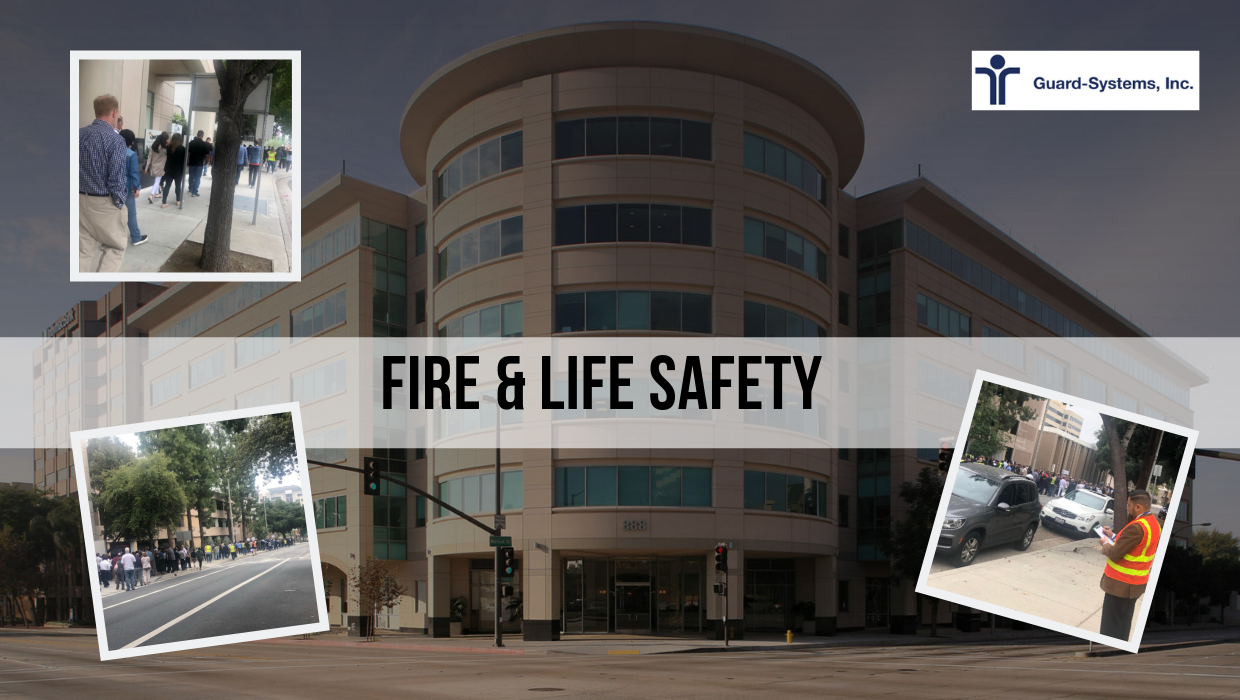 We recently assisted the IDS management team to conduct a successful fire drill for a six-story, 235,000 square foot commercial building we secure at 888 East Walnut in Pasadena. I admit that fire drills may not be the most exciting thing in the world, but fire & life safety can save lives!
It's important to have an emergency plan in place and conduct regular fire drills. Not just for the sake of compliance and liability, but also out of concern for human life.
It does require vigilance, and while most tenants understand that this is necessary, many do not understand the work that goes into ensuring their safety.
Fire & Life Safety Can Be A Challenge
I've been working in high-rise security for over 25 years, so I understand the challenges managers face when it comes to fire & life safety. Trying to get occupants trained within 14 days of residency, hiring expensive consultants to run classes and dealing with low show rates, adds stress to the job. It's not easy!
You need to create an emergency plan, recruit a Fire Safety Director, two Floor Wardens for each floor. Once you find these volunteers, you'll still need to ensure that they get trained and certified. Rosters also need to be created for all the floor wardens and anyone in the building who is mobility impaired.
Once all the training and paperwork is complete, notices are sent out, and exemptions received, then you will be ready to run a fire drill.
Technology is a Game Changer
Today, we have the ability to provide our clients with online training. This is the most efficient way to provide high-quality instruction to employees, occupants, floor wardens, and building staff. It allows trainees to take training where and when it's most convenient – via phone, tablet, or desktop.
Occupant Training
After viewing the 10-minute occupant training video, occupants are tested about the material. Trainees can print a certificate upon completing the program, and they may return at any time to refresh their training, download documents, etc.
Floor Warden Training
The online warden training program provides a flexible, convenient way to provide detailed training for floor wardens and building staff. This 23-minute program is divided into three modules and covers:
Team roles and responsibilities
Communications
Evacuations
Searching and clearing a floor
Shelter in Place
Fire
Earthquake
Medical Emergency
Emergency Supplies
Trainees can stop training in between modules and return to complete the program later. A customizable quiz after each module allows managers to see how well trainees understand their duties.
Reporting and Administration Tools
Clients have access to online admin tools where they can:
Generate reports on training activity
Export reports into Excel files
Print warden rosters and mobility impaired rosters
Edit test questions & answers
Update documents
Edit phone numbers
Mobile Web App
In an emergency, people need clear, concise, and immediate instructions on how to respond. The mobile web app provides individualized response instructions to everyone in a building in real time, even if your mobile device's network connection is unavailable.
This app can literally save lives in an emergency situation!
For All Emergencies: Provide response procedures for as many scenarios you need, from active shooter events to bomb threats and earthquakes.
Role-based Response Steps: Everyone in your facility – engineers, property managers, security officers, floor wardens, occupants, parking attendants – has immediate access to their unique emergency response steps for every scenario.
Staff Roles: Building staff can quickly look up the response steps for all other building staff roles. If an engineer happens to be the only one on site, they can immediately check the tasks that the fire safety director needs to perform.
Works When the Network's Down: App works even when a mobile network connection is unavailable.
Rapid Notification
Timely communication is critical in any emergency. This system allows organizations to notify thousands of recipients about an unfolding event simultaneously. Designed for speed and simplicity, this technology enables authorized users, via mobile or desktop, to quickly select a message from a list of pre-written scripts, choose who will receive the message, and click send.
This helps reduce confusion, improve response times, and reduce risk by keeping everyone up to date at every stage, from initial notification to the all-clear.
Comprehensive Fire & Life Safety Services
I am very excited about our ability to provide GSI clients with everything they need when it comes to fire & life safety. This will help reduce the potential risks to life as well as property. As a security professional, that is always a top objective.
https://guardsystemsinc.com/wp-content/uploads/2019/06/FireLife-Safety.png
700
1240
GSI
/wp-content/uploads/2016/08/Guard-SystemsLogo.png
GSI
2022-01-14 16:08:54
2022-01-25 12:43:30
Fire & Life Safety Just Got Easier