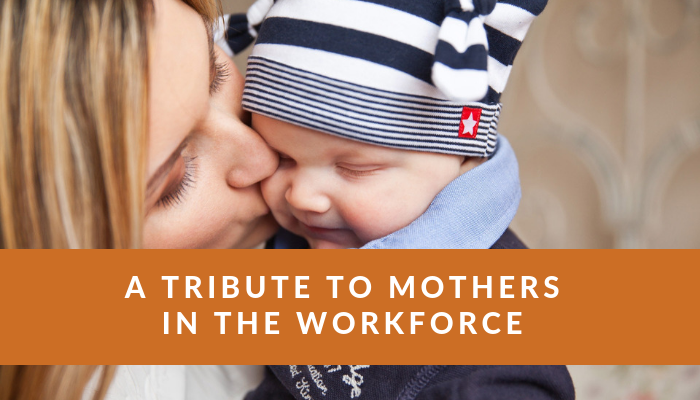 This time of year, a lot of people are thinking about their mothers. We owe so much to these women. Not only did they give birth to us, but they cared for us, raised us, taught us, managed the household, and the list goes on.
Growing up, many of us saw our mothers doing ten things at once. On any given day, a mom can be on a business call with food on the stove, clothes in the washer, tidying up, paying bills online and making sure her husband and children all look presentable.
As men, we don't understand how they can do all of that at the same time, but we have to give them credit. They definitely deserve our respect and admiration.
When you look at all these wonderful qualities from a business perspective, it's easy to see why woman make such a valuable contribution.
Mothers work hard to care for their families. According to the Bureau of Labor Statistics, more than 70 percent of mothers with children under 18 are in the workforce. That's dedication!
Just think of all the qualities a mother displays. They are kind, caring, compassionate, determined, and can stay on top of many things that are all happening at once. This makes them an excellent fit for business, especially customer service oriented businesses.
They add tremendous value to companies like GSI that make caring for clients, employees and the public a top priority.
We have many mothers working at GSI. Some work behind the scenes in administrative functions, and many more work as officers. They all do a fantastic job!
In fact, GSI is a woman owned business and it has been an absolute pleasure working here because the owner understands how important people are.
"The principles that make families strong can also make businesses strong. When we take a step back and consider the things that are truly important in business. We come to realize that business is not just about numbers. It's about people."
That's from an article I wrote a while back called, What Can Managers Learn From Family?
We often refer to the people we work with as the GSI family, and in our family, there are a lot of mothers. Some are single parents, some are married, some have already raised their children, and all of them are outstanding.
It's a privilege to work with these women, and it impresses on me how important our success is. These mothers trust us and work with us, so they can provide for their families. That is something we should never take for granted.
None of us would be here without our mother. We truly appreciate them and the sacrifices they make and have made for us. They cared for us and our children. They work hard every day to keep their families fed and clothed. They are our teachers us, caregivers and so much more. Mothers are awesome!
https://guardsystemsinc.com/wp-content/uploads/2019/05/Tribute-to-Mom.png
400
700
GSI
/wp-content/uploads/2016/08/Guard-SystemsLogo.png
GSI
2021-12-09 13:38:38
2022-01-25 12:44:17
A Tribute To Mothers In The Workforce